Gecho – Customizable NMR console
---
The system is a complete RF chain (NMR Spectrometer (Cameleon4) + Amplifiers + Pre-amplifiers) associated with a power supply. Gecho is assembled in a 3U box.
The Gecho is a versatile system where one can add parts on request, such as a shim card or a gradient card.
Cameleon4
Operating system on dual core ARM processor
Optical gradient output
4 Low noise RF Transmitters (Tx) from 0.5 to 600MHz
4 Receivers (Rx)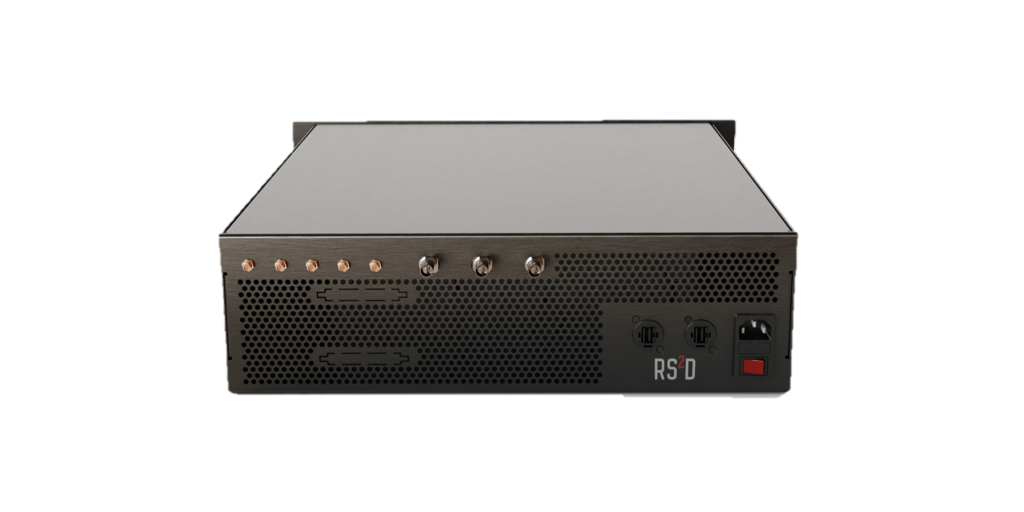 RF Amplifier
3 Amplifiers are available:
– 200-650MHz / 100w (50dB) duty cycle 20% max pulse width 300ms (1 per Gecho)
– 5-310MHz / 300W (55dB) duty cycle 20% max pulse width 300ms (1 per Gecho)
– 0.5-150MHz / 250W duty cycle 20% max pulse width 100ms

Preamplifier
T/R switch board
Preamp board: up to 3 channel (one dedicated when lock)
Low noise (0.5dB)
High speed active Tx/Rx switch
RF filter configured
Probe tuning on each canal (lock except)
General Purpose Input/Output (GPIO)

Power supply
European standard and American: 110-230Vac 50-60Hz
OPTION
Gradient
1 Amplificated output 10A
Shim
16 shims
Configurable shim matrices
Dynamic shimming (automatic)
16 bit current resolution
Max +/-1A per channel, with 75W max per 16shims card
Sweep mode

Z/B0 board, direct output
shim power supply Z/B0 internal field
DESCRIPTION 
The console has 3 transmit channels and 4 receive channels with LNA and TR switches for each one. It can be configured for simultaneous acquisition on the 4 receivers at different observation frequencies.
The adjustment and adaptation of the probes are integrated with a directional coupler on each transmission channel.
The system comes with an unlimited number of licenses on our proprietary acquisition and processing software: SPINit (running Windows). If you wish to keep your acquisition software, we also give access to the Driver, allowing you to ensure a link between your software and ours.
Do you want to have an overview of the software? Download SPINit.
Application example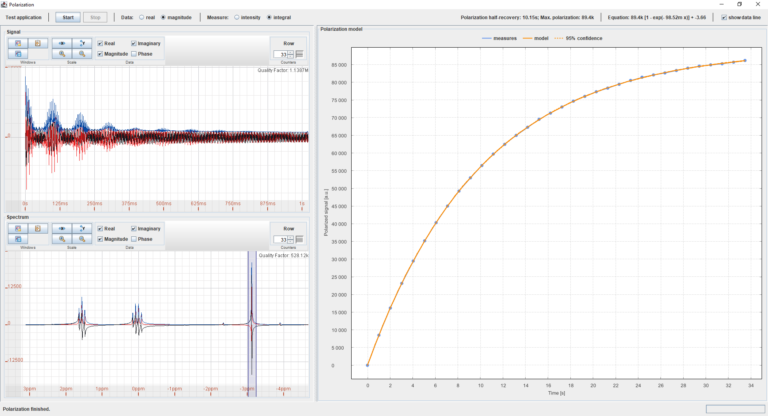 Magnetization watch for DNP systems
Polarization decay measurement
Polarization build up monitoring
Calibration of external systems (microwave generators)
real time data fitting
T1 measurement
T2 measurement (temporal / frequential)
Build up monitoring example, through a dedicated setup.
Any question? Please contact us via the contact page.

Concerning customized systems, please contact us.