Ideal for users without specific knowledge of the physics of MRI systems. These operators will find a simple and intuitive optimized solution for carrying out their studies with predefined applications and protocols.
For more experienced users PRim allows you to control many parameters of the pulse sequence. Includes SequenceDev, an intuitive sequence development tool with its graphic aspect, that allows you to develop your own sequences independently.
Advantage of our PRim software:
Auto shim available with an integrated workflow adapted to preclinical imaging.
The data is exported in the standard DICOM format.
Standard and advanced MRI sequences are or may be included.
Also available in a clinical version under the name of CLim (for Clinical Imaging) Basic sequence list included in PRim
MRI Basic sequences included:
Spin Echo
Spin Echo Diffusion
Fast Spin Echo
IR-FSE (Fast Spin Echo with Inversion-Recuperation)
Gradient Echo
Cine Cardiac
Cine Cardiac Black Blood
UTE (ZTE)
T1 / T2 map
DCE (Dynamic Contrast Enhanced) with keyhole option (faster k-space filling)
B1/B0 map
MP-RAGE (Magnetization Prepared Rapid Gradient Echo)
3D CUBE (3D FSE High Resolution)
EPI
TOF
Other sequences are available on request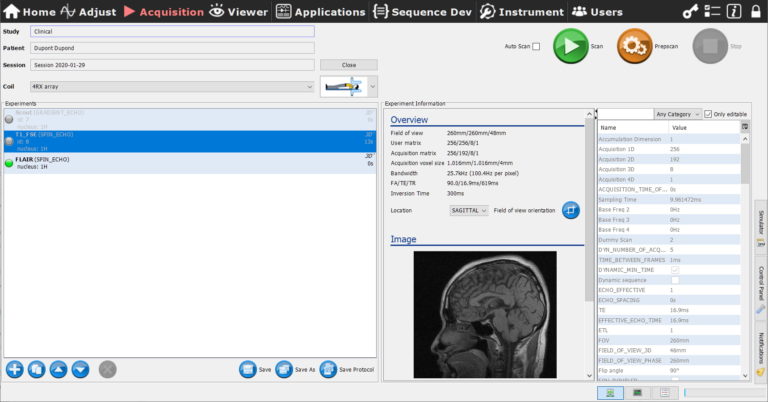 View of PRim software
Any question? Please contact us via the contact page.