Nanoscan® PET/MRI
The NanoScan® PET/MRI (Positron Emission Tomography–Magnetic Resonance Imaging) systems are now equipped with both high end PET with simultaneous capability and state-of-the-art superconducting MRI subsystems.
The in-line PET subsystem features real dynamic scanning with the best count rate performance and highest resolution on the market, designed for quantitative imaging of mice, rats and even larger animals. When complemented with the PET insert the system covers every possible application in molecular imaging.
The MRI subsystems equipped with robust cryogen-free superconducting translational 3T and ultra-high field 7T magnets enable high end in vivo imaging applications.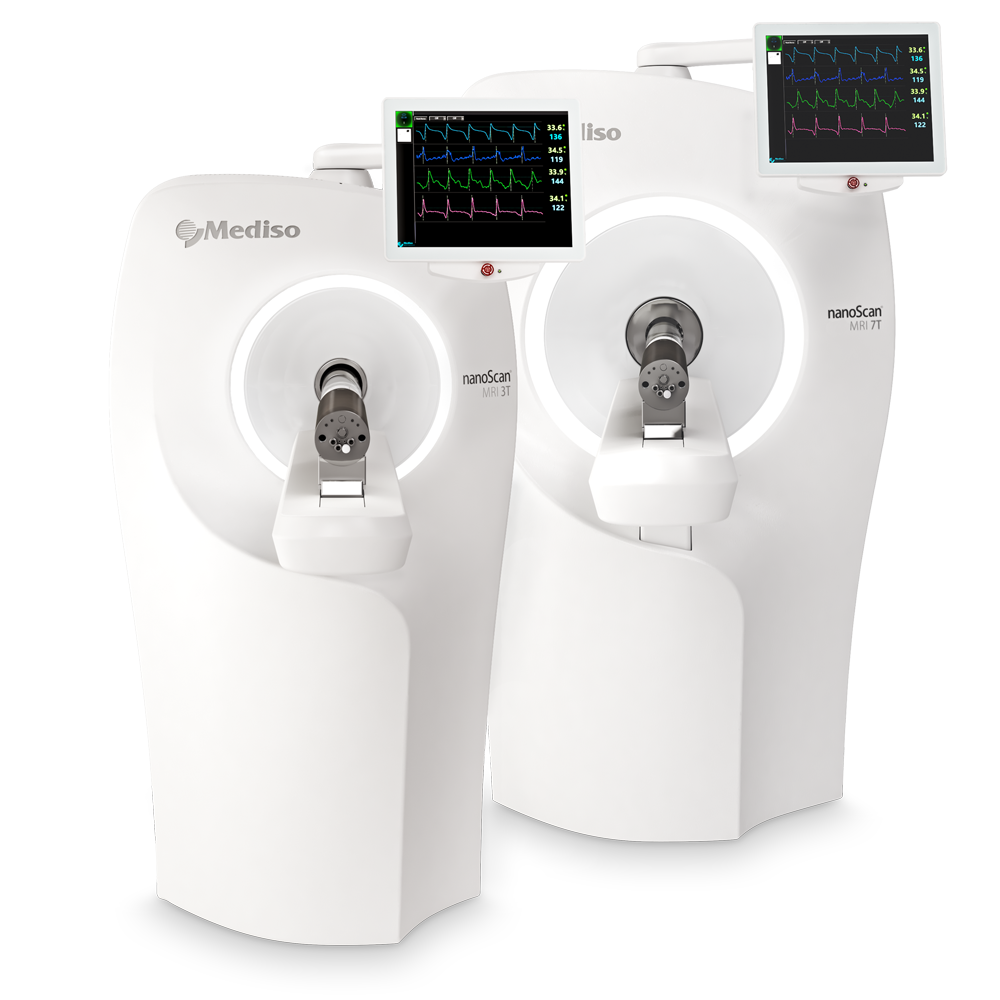 First integrated in-line preclinical whole-body PET/MRI
700 µm spatial resolution PET
Absolute quantification accuracy over 97%
Low operational cost & placed anywhere
Optimized field of view for imaging the entire body of the mouse and rat
Meets industry standards CE Medical, DICOM
Intuitive and user-friendly multimodal acquisition software for the planning review
Ability to use each method independently
Remote Access Possibility for maintenance and diagnosis
Touch Screen 17″ on the system allowing the user to control the movements of the bed, the translation of the arms, positioning, calibrations and positioning related settings
Superconducting Cryogen-free magnet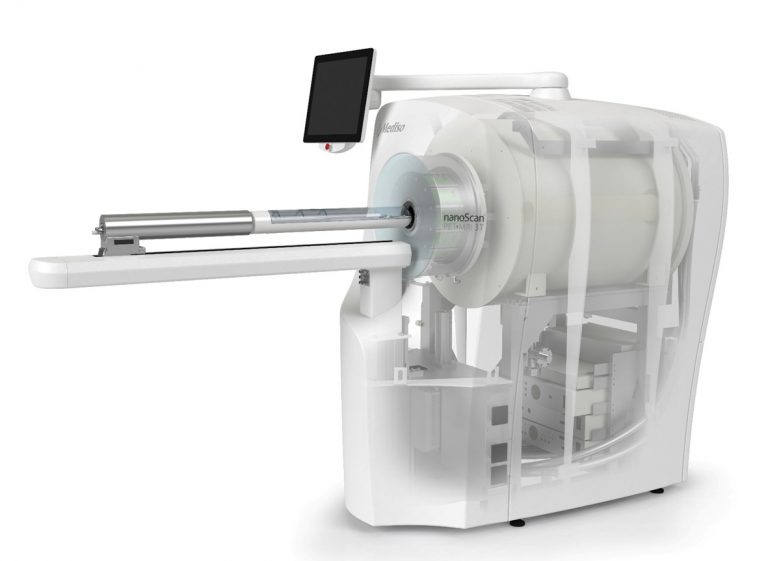 The NanoScan® PET / MR provides images with excellent resolution and with very high sensitivity. Through a clinical magnetic field, the system allows the translational in vivo imaging of small animals and is particularly suitable for examinations requiring greater sensitivity, including brain imaging.
MRI subsystem
The core of the NanoScan® MRI systems is the most robust cryogen-free superconducting magnet ever built for preclinical applications. Uniquely on the market it features a back mounted cryocooler to reduce conducted vibrations and make maintenance easier.
Field strength
3.0 Tesla (1H 128MHz) clinical field
Magnet
Superconducting cryogen free
Free access
Usable access
160 mm
72 mm rat, 42 mm mouse
Residual field strength
5 Gauss line
< 80 cm axial
< 60 cm radial
Bore size
17 cm
Homogeneity
Stability
+/- 0.5 ppm more than 50 mm DSV
+/- 1 ppm more than 60 mm DSV
Gradient power
Gradient strength
Gradient coil innner diameter
450 mT/m
Up to 1000mT/m
101 mm
Software
Nucline is an ergonomic interface, easily handled by biologists.
Magnet weight
Total weight
< 250 kg
> 450 kg
Space required
No need to have a dedicated room
Rampable
Yes
Quench protection
Yes, with SmartMagnet
Faraday cage needed?
No, the system is self-shielded
PET subsystem
Due to the high level of integration the NanoScan® PET insert offers uncompromised image quality while giving access to a unique way of hybrid imaging by obtaining information from functional, metabolic and physiological processes in a simultaneous manner.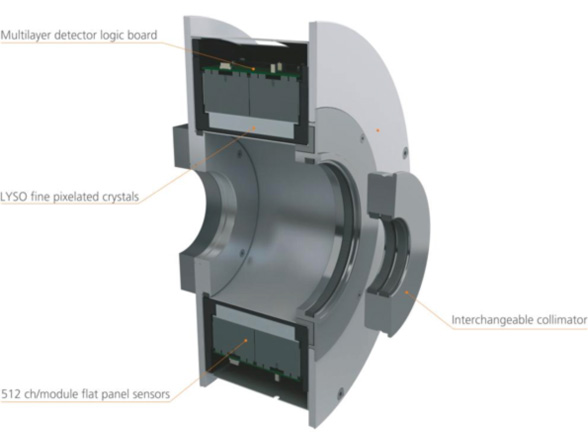 | | |
| --- | --- |
| Ring diameter | 18.4cm |
| Transaxial FOV | 12cm |
| Single axial FOV | 10cm |
| Extended axial FOV | 45cm |
| Cristal | 1.12 x 1.12 x 13 mm - LYSO:Ce |
| Spatial resolution with 3D OSEM | 0.7mm |
| Spatial resolution with FBP | 1.25mm |
| NEC for mouse | 850kcps @ 60 MBq |
| NEC for rat | 230kcps @ 60MBq |
| Coincidence window | 3ns |
| Timing resolution | 1.2ns |
| Energy resolution | 19% |
| Peak absolute sensitivity | 8% |
High density, LYSO type detectors
Increased crystal thickness for better sensitivity
Measures even the finest details: reconstruction engine Tera – Tomo ™ 3D PET brings PET resolution close to the physical limits with exceptional quantization and improved signal recovery and signal-to-noise.
Monte Carlo system matrix modeling and interaction correction depth; incorporates attenuation, scatter, positron range, dead time corrections
Reconstruction running on multiple GPUs (Graphical Processing Units) delivering reduced computation time
Acquisition and reconstruction are simultaneous thanks to powerful workstations.
The PET module of NanoScan® allows to obtain images with the highest resolution of the market and with a very high sensitivity.